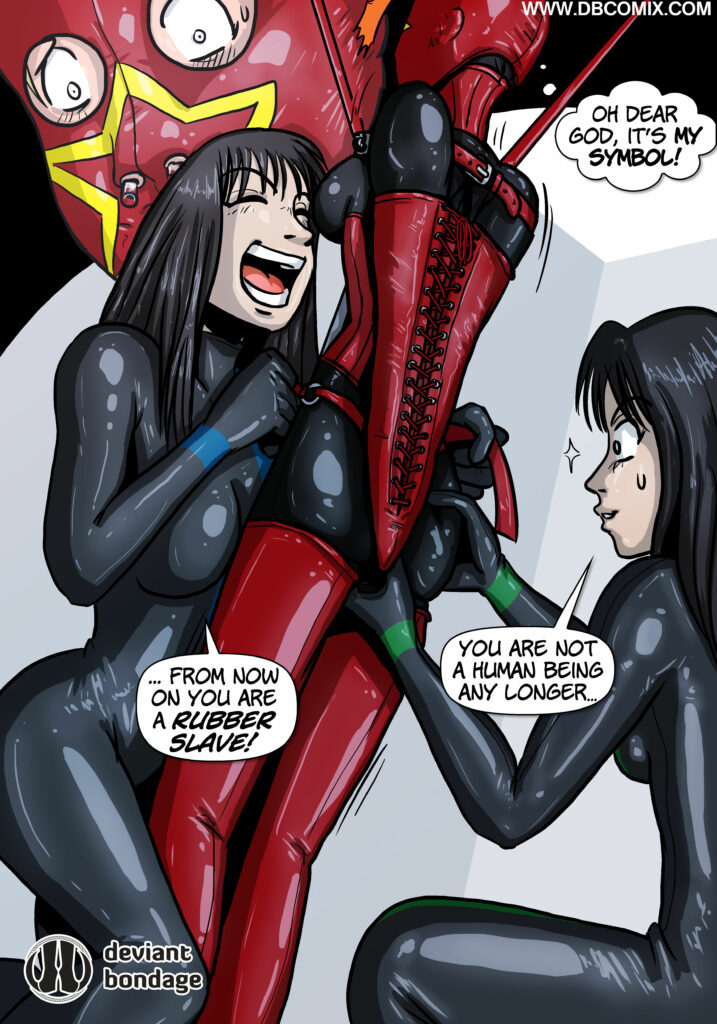 Soviet Girl The Falling Star 1
She is the greatest heroine of the Soviet Union, a paragon of virtue and the defender of socialism from the decadent west. But when Soviet Girl angers a pair of monstrous lesbian Dominants she finds herself dressed into a latex bondage suit and subjected to the cruelest tortures her deviant mistress's can conceive. Will Soviet Girl survive her twisted ordeal of lesbian bondage, sensory deprivation and total rubber enclosure or will she become a Falling Star?
Soviet Girl The Falling Star 2
Once she was one of the worlds greatest heroines, but now she is the broken captive of the deviant slaver's known as the Twin's. Her body imprisoned in latex and her mind shattered, Soviet Girl now serves these monsters as their abject sex slave. As a whirlwind of Maid training, torture, and ever more body modification continues, Soviet Girl and her friends are pushed deeper and deeper into abject suffering and lesbian slavery. Is there any hope left for Soviet Girl and what cruel torment does one Twin have planned for her next? Find out in Soviet Girl: The Fallen Star.
Soviet Girl The Falling Star 3
Once Soviet Girl was the greatest hero of the USSR, but that was before she was captured by the vile slaver's known as the Twins. Encased in rubber she was tormented and used as a slave for months, until suddenly unexpectedly she was set free. Now Soviet Girl hunts the Twins, revenge her only goal, but there are others who have very different plans for her. Believing Soviet Girl is a traitor and still in the Twin's service, a kinky KGB agent sets out to control her. Lured into a trap Soviet Girl is depowered and encased in a new and sinister slave suit, she obeys to the agents every command. The agent claims it is all for the good of the Union, but it soon becomes clear that the woman has desires of her own… Powerless and trapped Soviet Girl's submissive desires war with her duties as a hero and her need to be free. Will she ever be free again, or will the agent succeed in…Trapping a Star?
Our adult illustrated bondage book contain 3 books, 79 pages, 15 pictures + 3 covers (+2 alternative covers) in 2709 x 4096 pix (4k resolution), 41 422 words. Featuring: superheroine, training, rubber, latex, transformation, bondage, bdsm, training, lezdom, chastity…
DOWNLOAD (ADULTS ONLY) here: www.dbcomix.com/bondage/comics/soviet-girl-the-falling-star-sale
Authors: ToniBabelony (artist), EchoTango (author) and I have their permission to use.
XXX Parody, All characters are ADULT, ADULT and ADULT